Map of Antalia- Turkey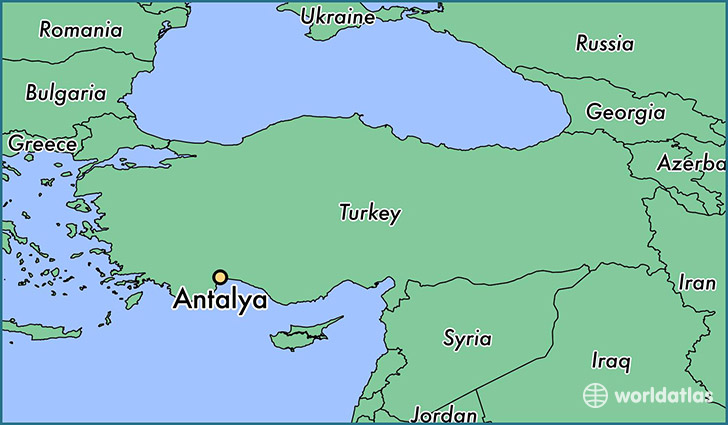 Antalya  is the eighth most populous city in Turkey and the capital of its eponymous province. Located on Anatolia's flourishing southwest coast bordered by the Taurus Mountains, Antalya is the largest Turkish city on the Mediterranean coast with over one million people in its metropolitan area.
The city that is now Antalya was first settled around 200 BC by the Attalid dynasty of Pergamon, which was soon subdued by the Romans. Roman rule saw Antalya thrive, including the construction of several new monuments, such as Hadrian's Gate, and the proliferation of neighboring cities. The city has changed hands several times, including to the Byzantine Empire in 1207 and an expanding Ottoman Empire in 1391. Ottoman rule brought relative peace and stability for the next five hundred years. The city was transferred to Italian suzerainty in the aftermath of World War I, but was recaptured by a newly independent Turkey in the War of Independence.
Antalya is Turkey's biggest international sea resort, located on the Turkish Riviera. Large-scale development and governmental funding has promoted tourism. A record 12.5 million tourists passed through the city in 2014.
Antalya was the host city for the 2015 G-20 summit. It is currently hosting the EXPO 2016.
Population:Â 1 142 971 (2016)
Language
The official language spoken in Antalya is Turkish. You'll find that most people will be able to speak at least some English, especially in the tourist areas.
Currency
Most shops and other places accept Dollars and Eurosbut English Pounds could be a problem. You are usually better off to change money and pay specially for small amounts (bus, Taxi, market) in Turkish Lira. Otherwise you get bad exchange rates.
Climate
The area is shielded from the northerly winds by the Taurus Mountains. Antalya has a hot-summer Mediterranean climate (Köppen: Csa) with hot and dry summers and mild and rainy winters. Around 300 days of the year are sunny, with nearly 3,000 hours of sunlight per year. The mean sea temperature ranges between 16 °C (61 °F) in winter and 27 °C (81 °F) in summer. The highest record air temperature reached 45 °C (113 °F) in July which normally averages as high as 34.4 °C (93.9 °F) and the lowest record dropped to −4 °C (25 °F) in February, when the low average is as low as 6.1 °C (43 °F).
Culture
Cuisine
Antalya's signature cuisine includes Piyaz (made with tahini, garlic, walnuts, and boiled beans), şiş köfte (spicy meatball which is cooked around a stick) spicy hibeş with mixed cumin and tahini, tandır kebap, domates civesi, şakşuka, and various cold Mediterranean dishes with olive oil. One local speciality is tirmis, boiled seeds of the lupin, eaten as a snack. "Grida" (also known as Lagos or Mediterranean white grouper) is a fish common in local dishes.